by coie - May 9th, 2009.
Filed under:
Uncategorized
.
This convention just ended and mom and I will be flying back in tomorrow afternoon. It went very well, and was not too exhausting. We met a couple bloggers, and I was especially excited to meet Underdog (along with two of his cute daughters), whose blog I've followed for years now. That was super.
We also got to visit for a bit with my great-grandma Nile, my great-great-aunt Dora and her daughter, Beverly. I haven't seen them for around 10 years, so it was good to see them, even if it was only for a short bit.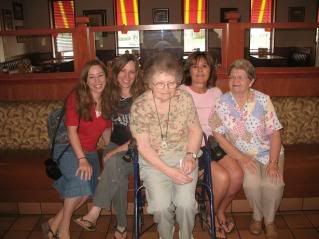 Lots of fun…but bummed to miss church tomorrow!