by coie - April 20th, 2009.
Filed under:
Uncategorized
.
So Cincinatti wasn't as terrible as I thought it would be.  Except for the lights, noise, one-way streets and lack of accessible restaurants.  And the guy that tried to get into our room under the ploy of helping us check out our luggage.  Long story short, we had called the front desk to request another room because our shower didn't work.  They told us no problem, just bring your stuff down, we'll check you out and sign you into another room.  Five minutes later a dude shows up to "help".  I was in the shower.  Mom was like, "Oh, that was quick!  Well, we aren't quite ready, can you come back in ten minutes?"  Dude offers to come in and wait.  Mom says, "No, my daughter is in the shower, so it would be best if you just came back in 10 minutes."  Dude says ok and leaves.  Mom has second thoughts and calls the front desk to see if they sent someone up to help us.  They say no, and under no circumstance should we let said dude into our room.  Cuh-reepy.  He never came back, but the front desk took down his description.  Yep, so we almost died.
The convention was fun and we saw lots of internet friends and other friends that we haven't seen in a while.  I really liked the booth next to us – Verity Institute.  It is a college and was being run by students or graduates from there.  They were all so neat and normal!  So I made some friends.  And it was weird because they all knew one of my old friends from CA…I had no idea she even went there (we don't really keep in touch).  Small world.
I also got to meet Ryann's friend Tessa there.  She is so cool and sweet.  These girls met about 4-5 years ago when we were visiting our grandma in MI.  Mom, dad and Ryann had run into a grocery store and when Ryann saw their family she was like, "Mom, they look like homeschoolers – can I go ask if they are?"  Well, yes, they are and so began a wonderful friendship.  They always talk on the phone, but haven't seen each other since that initial meeting so Ryann was really very jealous that I got to see her (for the first time!).
Other highlights were seeing/meeting Julie P, Gina D, Marsha Drews, Angel G, Jen M, Spunky, Kim Wolf, Jenna Wolf, Maggie Hogan and others that I know I'm forgetting.  We are blessed to know such neato people.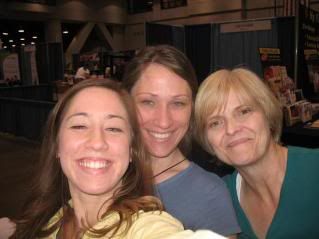 We headed back earlier than planned and got home at 2, Sunday morning.  The family didn't know we would be there, so the next morning they were surprised to see my bedroom door shut, which meant I was home and in bed.  At 7:30 I heard my door creak open and some tip-toeing.  I had my back turned away and I waiting to see who it was and whether or not they were going to greet me, or let me sleep.  Then my bed squeaked and I felt a little hand on my head as James sweetly squealed, "Cooooooiiieeee!  I'm so happy you're home!" and then he put his head on mine and gave me a hug before announcing, "I brought my buddy!" at which point Bobo's grinning head popped up and he gave me a hug.  Then Dippy came running in….then Emmi flopped herself onto my feet.  But the real kicker is when 8 foot Amazon sister Ryann came bounding, pouncing and flailing her limbs and 4 foot long red hair into our presence.  I still don't know how she didn't get caught in the ceiling fan.  Her entrance was….interesting.
Showed up at church (they weren't expecting mom and I) and Mr. Taggart was standing there — he wasn't supposed to be back (from Papau New Guinea) either!  I jumped out and said, "What are YOU doing here?!" and he said, "Coie?!  What are YOU doing here?!"  So we were all excited and overly emotional from our lack of sleep.  It was a very nice surprise and we were all encouraged to see him and have another enjoyable Sunday with our church.
I love my home.  I love my siblings.  I love our friends (old and new!).  I love where we live.  I love our church fellowship.