by coie - February 18th, 2009.
Filed under:
Uncategorized
.
So I answered the phone at work today and heard, "Coie!  Just who I wanted to talk to!  Happy Birthday, a day early!"  It was Winston, an older gentleman who I work with.  It was his day off, but he told me he was bringing me a cake since I wouldn't be there tomorrow.  Oh heavens, I was excited.  This is the man that wins first place every time we have a dessert contest.  He actually made two cakes (which I had declared "divine" before) and split them in half, combining them into one.  One half is coconut and the other half is strawberry.  YUM! 
Now, I clearly remember asking another co-worker to make me a cheesecake, but I'm almost positive I never even hinted for this masterpiece.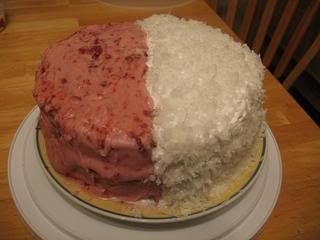 Is that not the very picture of heavenly yumminess?
Here is a picture of something that a customer made for me a few weeks ago.  He and his wife are very sweet, and make sure to catch me every time they walk into the store.
Ain't it charming?  It's made entirely of clothespins!  I think I'll keep it to hang in my future laundry room.