by coie - November 1st, 2008.
Filed under:
Uncategorized
.
Well, we leave for Illinois in less then a week and I have almost finished my quilt.  It only needs the binding sewn up and then I will post a final picture.  Other then that, no more posts 'til after the barn dance!  🙂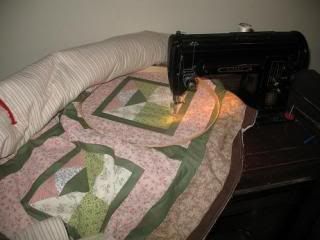 Quilting it.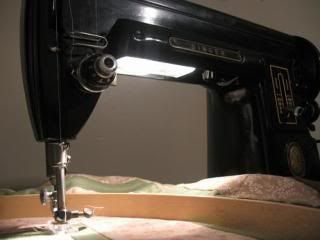 Not the greatest picture…but most definitely the greatest sewing machine.  Made in the 50's (I believe) by Singer and given to me by a dear couple.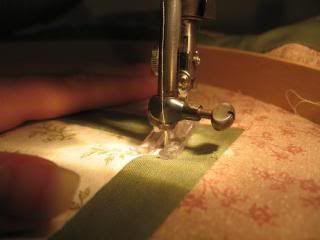 Quilting closeup.
My messy head.
Most of the quilt, but doesn't include the dark brown binding.
The fun part about this quilt is that a lot of the materials were bits and scraps that I had leftover from skirts or other projects, and as I mentioned before, I'm pretty sure I made up the pattern.  Now I need a name for the pattern — any suggestions?