by coie - September 29th, 2008.
Filed under:
Uncategorized
.
I do believe I've quite neglected this blog.  I haven't had much to inform anybody of though.  Sure, we keep busy, but my momsie blogs about everything before I even have time for reminiscence.  In fact, I would completely abandon this blog if it weren't for my Uncle Charley telling me he won't make me a wooden ring until I blog and redo my template. 
I would like to take this moment to declare that WordPress does not have very user-friendly template editors.  It makes me dizzy looking through all the pages.  And I used to think I was an expert.
But I have grand news — we are going to a barn dance in IL!  I'm so excited because we weren't going to have a local barn dance this year and my family was lamenting the loss.  I'll be donating a quilt to auction off, which I started yesterday.  I'm pretty sure I made up the pattern….and it was completely on accident, too.  I pulled out a bunch of corresponding scrap material and threw it into my lap, when lo and behold, this pattern was practically staring at me:
For more info on the barn dance on November 7th, click HERE
In other news, this is how I spent last Friday at work: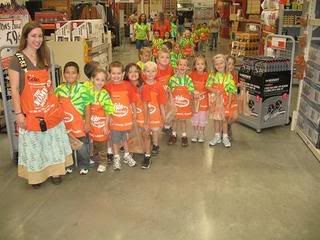 Touring Home Depot with 56 Kindergarten kids.  Do you realize how easy it is to impress 5 and 6 year olds?
So that was fun.  And this also wraps up my blog post.  I'll most definitely blog after the barn dance, but more than likely, not before.