by coie - November 13th, 2007.
Filed under: Uncategorized.
First off- I'm eligible to win $500. No strings attached and no taxes taken out. All I have to do is get enough of my co-workers to vote for me. 15 associates in the store get $500. Anyone eligible (basically everyone) gets to vote for someone else and the 15 people with the most votes gets the money. I think I may have gotten at least one….maybe. And no, I'm not bribing people.
Secondly- here are some pics of our new car. Click for larger versions.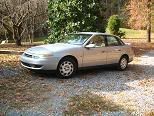 Yeah, that background is for real. It's where I live. Ain't it swell?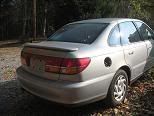 It's kinda missing the gas cover. Just kinda.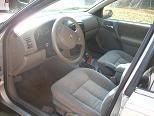 And thirdly- I'm watching a CD Player/Radio on E-Bay right now that would fit perfectly into my car. I've had the car for 2 1/2 years and it used to have a disc changer, but alas, it broke down dead about a year ago and I've been forced to listen to the radio. I hope this one on E-Bay doesn't get up high. If I get it, my car will be complete and perfect. I love my little car. It's still running great despite the 223,000 miles on it.