by coie - November 8th, 2007.
Filed under: Uncategorized.
Well, because my employer is cutting hours, I currently have four whole days in a row off. I'm a scary thing to come across on my days off because I don't even try to make myself look presentable. If you ever need a good laugh, just drop by unexpectedly when I'm home. All I care about is whether I'm comfy or not. No really– here's what I'm wearing now: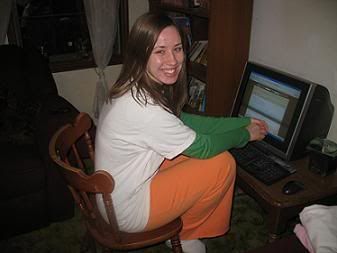 Now tell me that doesn't give you a hankering for some cotton candy and an overpriced game of Pin the Tail on the Donkey. I've given myself a prize for being the most colorful person in the house. We Igs delight in our geekiness.
As a general rule, I also try to wreak havoc around the house. I've already raised my mom's blood pressure a few notches by invading the kitchen and stealing cookie dough. I'm going to snatch a cookie in a few minutes. I figure I'll take one while she's distracted reading this entry.
I also got to drive around with dad today and find a car to buy. We both liked a silver 2000 Saturn LS five speed manual (with a CD player- yahoo!) and it took us about an hour to convince mom over the phone that she liked it too. I love my Saturn and I'm excited to add another one to our transportation collection. Mom and dad will go buy it tomorrow. I'll post pictures when we get it.
In other news, Home Depot was giving its employees free flu shots yesterday. Everyone complained about their shoulder hurting and I said, "Ha– I ain't getting one!" To which they replied, "Why not? You don't want to get sick do you?" And then I told them "Ain't no way I'm going to let someone inject flu germs into my bloodstream! I'll get it the natural way and then test your flu shot." They thought I was crazy. I thought they were crazier. That's how it always goes. But I look funnier, so I figure I'm ahead in the game.
Oh yeah– and they let me cover the paint department's lunch break yesterday. I had only mixed one can of paint before under the very watchful eye of a paint associate, but everything went well. It was swell, especially when the other employees walked by, did a double take and asked me what I was doing over there.