by coie - October 30th, 2007.
Filed under: Uncategorized.
I would like to start this post out by saying that I may or may not have done any of the following.
First of all, I've had a productive day. I've been sewing two matching flower girl dresses for an upcoming wedding. They are pretty cute so far. Have I mentioned that I love my old sewing machine?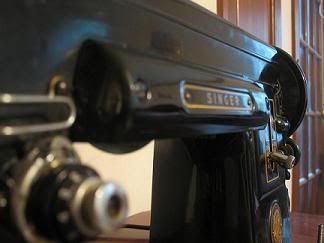 Then I sat around and watched my new favorite cartoon on YouTube. I tell you what, I never knew asians could be so funny. Ever heard of Backkom? Here's a couple links to the funniest ones:
So anyways, while I was watching Backkom it was brought to my attention that we might be having a turkey dinner sometime in the near future. Don't ask me how I knew, but let me tell you that I may or may not be responsible for the sudden decline of the turkey population in East Tennessee. (ahem). Whoops…what I meant was, look at the size of this turkey that my momsie just picked up from the…uh…store. I was in charge of the butchering. I would like to take a moment to mention that I've never seen a store bought turkey with a shattered leg. Probably it was killed by some dumb 18 year old girl. (ahem). Anyways, I better be going…here are some pictures of what may or may not be our dinner tomorrow. And I'd like to remind you– despite the overwhelming evidence– I may not have actually killed that turkey. *I* believe it died of a heart attack. Not that it's illegal to shoot a turkey….I'm just antsy from the LAST time I shot something.