by coie - May 19th, 2007.
Filed under: Uncategorized.
With daddems and the big boys gone at Father-Son Camp 2007, we Ladies of the Igarashi Household decided to transform our gross, ugly, cluttered, disgusting dining room into a pretty little room in which we could actually eat and not feel like vomiting because of the awful wallpaper that was up, and the unremoveable dirt on the bottom half of the wall. Our walls had a paint on it that was flatter than flat and could not be washed. And that's not good when there are 6 kids in a house within the 3-18 age range.
So we (I) sneaked over to Walmart and picked out some semi-gloss paint the day before dad and the boys left. Friday, as they were preparing to leave, we girls helped them and hurried them out. We only had a day and a half to get our work done. Maybe you don't believe how awful our dining room actually looked, so here are some pictures of our great adventure.
—BEFORE—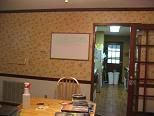 This wallpaper seriously bothered me because it pictured both strawberries and bluberries growing on a vine. And neither of those fruits grow on a vine. So it frustrated me. 😀

—STEP 2: Sand Off the Hardened Glue—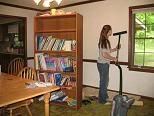 …Still Sanding!…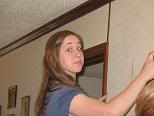 …Still Vacuuming?…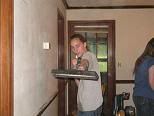 —STEP 4: Clean Up, and Tape All Trim—
Tricked ya- no pictures…but this was about the time that mom started asking, "NOW can I start painting?" To which I responded, "No." I apologized at the end of the night because I became a real bossy head throughout the project.
—STEP 5: Start Painting!—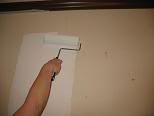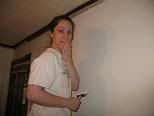 "Oh my heavens! This looks MUCH better!"
…Let's Check Up on RYANN…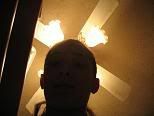 Hmm, still playing.
—AFTER—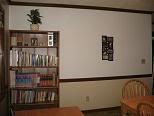 …We also got some use out of the picture frames I bought a year and a half ago…
…First we put up the "nice" pictures…


…And then just to make sure people didn't get confused and think they walked into the wrong house, we put up the "normal" pictures…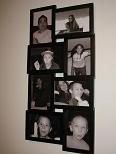 …We celebrated our feat with ice cream…
How's that for a job well done?