by coie - April 23rd, 2007.
Filed under: Uncategorized.
Back by popular request– My SIBLINGS! Anyways, when I always posted pictures of them before, people wanted goat pictures and now that I post animal pictures, people demand the siblings. So without further ado, here are the Pumpkin Heads.
Ryann (13), who does not enjoy milking goats

Emmiko (almost 12)

Aaron, or Bobo (10)….He likes to look important…and he might have succeeded if he didn't have a chicken on his shoulder.

Geoffrey (almost 7) hanging from trees

James, (almost 4) another monkey who climbs trees all the time…only, he is only in his underwear, so I had to crop the picture. That child needs dressing skills.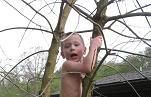 I hope you are satisfied…I had a hard time getting these pictures– Ryann and Bobo kept throwing chickens, yes, live chickens at me during our picture session (hey, we are farm kids. chicken tag is way more fun then video games– say, gonzo's and petersons– what do you say to playing Steal the Chicken? Oh, I crack me up).
Oh yes, and Emmiko wanted me to post this picture of a humongous butterfly that the boys found.

So there you have it! Don't you all like my siblings? I sure do. Lately they come up to me and give me random hugs or backrubs. They also confide in me and ask me to pray for and with them. I like being a big sister. 🙂
I will sing of the mercies of the Lord forever,
I will sing, I will sing,
I will sing of the mercies of the Lord forever,
I will sing of the mercies of the Lord!
And with my mouth, will I make known,
Thy faithfulness, Thy faithfulness,
And with my mouth, will I make known,
Thy faithfulness to all generations