by coie - April 18th, 2007.
Filed under: Uncategorized.
I believe I just heard an "earthquake" upstairs. This is what we define as the sudden outburst of a losing chess player upon the chess board. Mom is usually the one that orchestrates the earthquake while her winning opponent shrieks. Speaking of mom, her birthday was on Sunday, and speaking of chess, here is what mine and Bobo's game looked like the other day: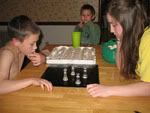 Yes, we each have one queen and one king on the board. I declared myself winner after killing his queen.
Here are some pictures of my baby goats and our two new goats.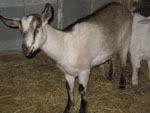 Cecily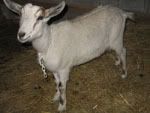 Willow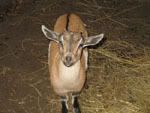 Golly– Look at those horns! She wasn't supposed to have any, but I think they're cute.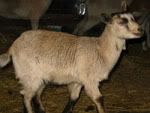 Gee– she is the sweetest goat we have.
And here are the 26 chickies we hatched last week. Three of them are part "Pet Chicken" [yes, we have a pet rooster].
We are BLESSED!
Then sings my soul,
My Saviour, God, to Thee
How great Thou art!
How great Thou art!