by coie - March 7th, 2007.
Filed under: Uncategorized.
Wowee! Sorry for slacking off so long! I wanted my next post to include a bunch of pictures from our birthday party (yeah, the one that took place a month ago– time flies when you live on a wannabe farm!). Our favorite personal photographer, Tyler the Burggraf, gave us a CD of about 1 million pictures, and then Jaime the Gonzalez made us another CD which contained nearly 100 more pictures. So here I am to post them.
But before I start– has your weather been quite as lovely as our's? It was such a beautiful day today. I wanted to sit in a tree and close my eyes and just listen to everything, feel the breeze, and smell the hints of arriving spring. But, life beckoned and I had to suffice with feeding my goats, and then heading downstairs to get my work done.
And is anyone else outraged with the fact that someone decided to move Daylight Savings back one month? Seriously, I think I might cry! Someone high up has a cruel sense of humour. But either way, you better remember to set your clock FORWARD (sniffle) this Saturday night or you'll be late for church.
Anyways, here are all 46 of the pictures I decided to share. 🙂 Click on Thumbnails for larger versions.
Before the Party: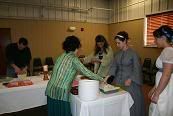 In this picture you see Mr. and Mrs. Nelson, The WONDERFUL Mrs.
BURGGRAF
,
AMANDA
, and me! Grandma, if you are reading this, do you see how many stinkin' buttons I had to sew on my outfit?! 16!!!
Bobo the Magnificent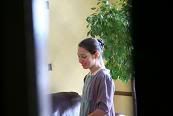 Jessica G.
The Little Tookie-Face having a glass of sugar.
My cousin Levi– grinning big!
All the boys present decided to WRESTLE at a DANCING party! My my! In this picture you see Eric Dixon, Bobo, I think Noah Nelson, and two kids I don't know. *grin*
WASHI-WASHI grinning…by the way, she is in line for the Sweetheart Chassez (more on that below).
Emmiko with the AUSTIN'S new goat. He looks kind of like Bobo's new goat, Sloppy Joe. They can be pals….before they are butchered that is.
Carolyn G….G does not stand for Goat….even though she is a fellow goat-gal.
The following photo frightened us out of our wits. All I can say is, he's a ROY boy!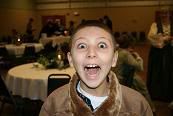 And to think that this is his lovely sister, SAMI:


One of them must have been adopted….
And while some people set up things for the party, some people talked politics. Mainly, who would be our president in 25 years……
TIMOTHY?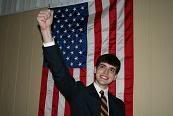 Or Jaime? (and that's pronounced "High-Meh", but if you are like us and can't say that or can't remember, you can just say "Hiyah!"


After everyone decided to show up, we took about 142 pictures of everyone that came in costume, or just looked stunning without a costume. Here is the outcome.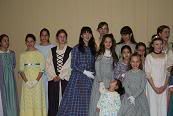 There you can see SHAIYA in the light blue dress. Isn't she pretty?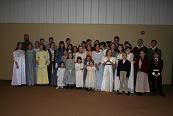 Halfway through, mom dashed in wearing the cape that she stole from Mrs. Austin.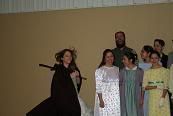 Then came The Chair Game…..
Yes, they are trying to kiss their elbow just so they can move over a spot.
I believe those fellas are comparing the shiny-ness of their shoes. Were they truly that bored?
My cousin LUKE (on the left- gotta love that grin!) and his new-found friend, Luke.
And let the dancing pictures begin!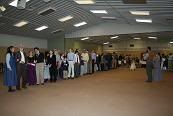 Lined up for The Grand March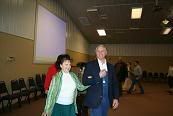 Mr. and Mrs. Burggraf. Weeks before the party, Mr. B assured us that they would come but not dance, because "Baptist's don't dance". Well…..he changed his mind. 😀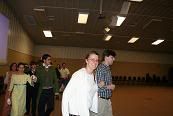 Mr. and Mrs. JOHNSTON
Isabel and Jaime G
Mr. and Mrs. CHASTAIN
Veronica G emerging from the tunnel with her dancing partner, Daniel E.
The part that makes everyone dizzy– making a spiral
Still doing the spiral part….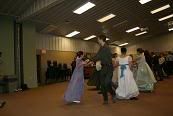 Virginia Reel!
My uncle decides to join the fun
I'm not really sure which dance they are doing here….but it looks like they are having fun, eh? 😀
The following pictures are from the Sweetheart Chassez…And I'll just copy what I wrote in a previous post so you know what they are doing.

Everyone especially got a kick out of the "Sweetheart Chassez". In that one, the gentleman line up on one side and the ladies on another. There are three chairs at the front of the room. It starts with a gentleman sitting in the middle chair and two ladies come from their line and sit in either chair beside him. The gentleman then has to decide which one he wants to chassez (kinda like a hop-step) down the aisle with. The rejected lady recieves the hat he is holding. She then moves to the middle chair, two gentlemen come, she picks one and the other sits in the middle chair, so he can pick next, and so on.
Who should Julia Austin choose? Joshua or Joshua?
Tough choice! Timothy tries to decide between sisters, JOCELYN and AMANDA Dixon
Nathaniel Estabrook chooses Emily Peterson over Miss Angela
Joy Austin looks like she's in a real pickle as she tries to decide between Mr. G or Jacob
The following pictures show a dance that was something like Musical Chairs. All the gentlemen had a partner that he danced with (it was not supposed to be organized so they mainly dragged their partners around while they body slammed other guys) except for one, who was stuck with a broom. When the music stopped they had to find a new partner. The gentleman without a partner had to take up the broom and dance with it. Some tried to find new partners…..and some….well, they preferred the broom.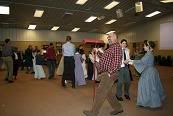 Mr. Austin
Luke, proud to dance with a broom
These pictures show the littles and bigs all dancing together (sweet, eh?):
Briyah Badgley (ain't she cute?)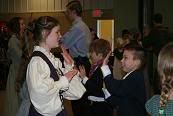 And here you see the lovely Miss Angela teaching us a very easy and wonderfully fun Scottish dance, Gae Gordon's (or Giddy Gordon's as Heather Peterson renamed it. hardy har har)



And all of the Februarians (the best month of the year)

Dad, unknown, Levi, Tyler, Me, Ryann, Jessica Austin, Miss Angela, Mrs. Johnston, Mrs. Roy and Isabel. My momsie is holding the microphone and wearing the skirt I made.
Well, this post officially fills up 11 pages in Microsoft Word, so I think I'll be done now. That gave me a headache and arthritis.