by coie - February 18th, 2007.
Filed under: Uncategorized.
Poor me. I get excited over two inches of snow. Of course I've seen what real snowfalls are like, but I've never lived in a place that will keep snow for more than 24 hours. My friend SHAIYA has been snowed in since Monday. Shaiya, if you guys run out of food, open a window and have a snowcone.
Here are pictures of our pathetic "Snow Storm" and my goats (does anyone actually enjoy hearing about the goats?) Click on thumbnails for larger versions.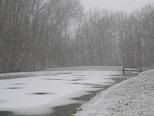 Our lovely pond. If you look really hard, you will see our ducks behind the dock, walking on water.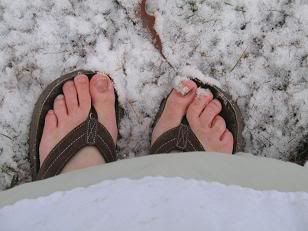 No larger picture of this one, sorry. I'm sure you were anxious to print it out and hang it on your kitchen bulletin board. I'm still learning what proper footwear is for this weather.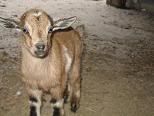 Golly– enjoying the snow.
The following pictures demonstrate my recent practice in goat catching. When the kids are hyper, it's very difficult to catch them and I want to do it in a way that will not frighten them. I don't think I'm succeeding in the "not frightening them" part.
Getting Golly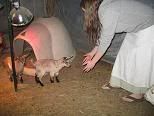 Coaxing Gee with "Come here, baby…."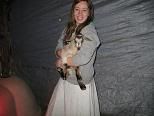 Success! Me and Gee.
While I was preoccupied with the goats I heard a ruckus in the chicken house which Ryann had just entered. I just stood there and tried to think of all the different things that could have caused the sudden outburst. Then Ryann, who is very proficient in the skill of sneaking up behind chickens and catching them, came out with a rooster she named "Solotaire", which she was carrying by it's legs. Poor thing. If I was snatched up by a tree-girl and being held upside down I would be screaming like a crazy woman too. Especially if I knew I was going to be dinner in a few days.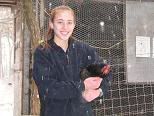 Ryann and Solotaire, after being placed back to his regular position.
I've moved chicken butchering day to Tuesday because I will make a cake tomorrow, and I don't want it decorated with feathers.