by coie - January 25th, 2007.
Filed under: Uncategorized.
We have been back from Michigan for about a week now but I haven't had a chance to share my pics until now. One day that we were there my grandparents announced that my grandpa got a new quad/4-wheeler/whatever you call it in your region and we were to be the owners of their old one!!! I have wanted a quad since I was 8—and now we have one!
As you can see from my new avatar, we have been practicing hairstyles for the upcoming 1800's party. I have also started on my outfit.
We have really enjoyed our Scottish Country Dance Lessons, and we keep catching my dad skipping and prancing in the grocery store aisles, in the dining room, and other such places. I believe he enjoys it more than any of us. hardy har har.
I also bought some WONDERFUL hemp necklaces from a blogger here on HSB. You can see her website HERE.
Ok, here are a bunch of pics…click on thumbnails for larger versions.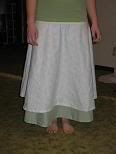 The skirt I made…It's a tad too big.
Michigan Pictures: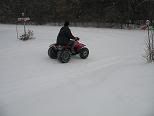 Dad on the Quad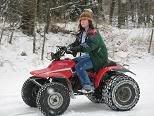 Emmiko on the Quad
Some info on Dippy the Squeaky (6), whose favorite phrase is, "Oh my SQUEAKERS!". He is a backwards child. Every family has a backwards child. It is the child who is not only tiny but also puts his shirts (even button-ups) on backwards, his pants on backwards, his shoes on the wrong feet, and, if he's wearing any at all, his underwear on backwards. Backward children also have trouble when it comes to sledding.
Dippy Sledding
While there, my dad would tie the sled onto the quad and drive us around. After Emmi's ride she told me that dad tipped her on purpose and she was COVERED in icy powder (eh, that means snow). Dad asked if I wanted to go and I refused. I told him I was wearing my only coat and didn't want to get wet. Here is a pic of Ryann doing it.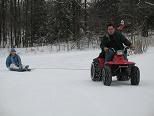 Dad finally convinced me to get on, reassuring me I wouldn't tip. And what do you think happened after we turned that second corner? Bingo! I was quite indignant.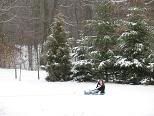 On the sled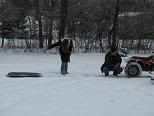 Trying to wipe the snow off, after tipping. Dad is unwinding the rope from the axle.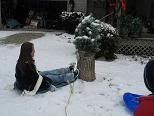 The ride was finished by running me into a stump.
My sister EmBem (11) is quite the pro when it comes to being athletic and daring. She kept riding the sled STANDING UP down a small hill. And since I'm 6 1/2 years older I figured I could do it too. I momentarily forgot my eternal state of uncoordination. First she gave me a small lesson…….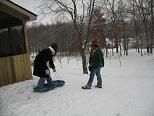 Learning the "basics"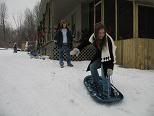 Shaky start. In other words, I was terrified and remembered I have no sense balance, steering, or common sledding ability.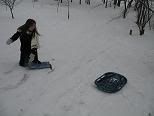 After 10 feet of screaming, I mean sled-boarding, I parted with the dear slippery thing.
After ten minutes I worked up the courage to try again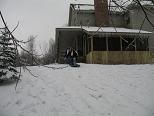 Halfway down, I decided it was all too much, and sat down for the rest.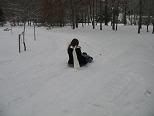 See the wonderful scarf? Its soooooo long and was gifted to me by the PRICES. I love it muchly. 🙂
And thus ends my post…..So tell me, what do YOU call the 4 wheeled fun-mobile pictured above?