by coie - January 19th, 2009.
Filed under:
Uncategorized
.
Somebody really ought (aught? … a'ight?!) to forbid me from entering fabric stores when I have no money.  That being said, I present to you my new $32.70 (plus 7 hours labor) funky handmade skirt.
No, I'm not that white — that would be a tank top.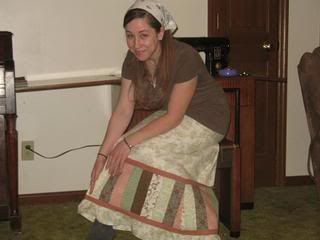 Included in this pic is my handy dandy bandana, strictly for creative inspiration (*you* try designing a skirt without one!).
Anyways, I think it was worth the time and money.  It's ever so much fun to wear!  Now I need to go to bed.