by coie - December 28th, 2008.
Filed under:
Uncategorized
.
Three wooden rings made by my uncle, Charley.  Unashamedly demanded, long anticipated, giddily received.  Did I make up any of those words?
The absolute best p-jammies on earth, Lazy Ones, from Jess (and a cool Alaska sweatshirt…oh yeah…and chocolate…yummy chocolate).  Yes, I grin like a psycho when I'm excited.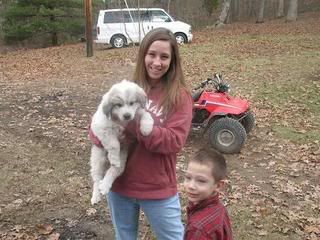 A puppy, Fiddle.  A wife for our other Great Pyrenees, Banjo.
A queen sized feather blanket from mom, to replace my very old, very holey twin sized down blanket which distributed feathers throughout my hair during the night with the joint effort of my evil fan.
And a Burt's Bees set from Ryann, which includes the best lotion and lip shimmer EVER.
I think this is going in the books as my favorite Christmas.  And I just realized that I'm not wearing a skirt in any of those pictures.  Weird.
And now 2009 is around the corner.  What will it bring?  I pray that it will bring renewed fervor in our relationships with God, sweet reconciliation and continued fellowship in our relationships with each other, joyful steadfastness in our walks, healthy new family members, and…..adventure.  But we are the Igarashi's, and adventure seems to tag along on our heels whether we ask for it or not.
Romans 8:26-28
In the same way the Spirit also helps our weakness; for we do not know how to pray as we should, but the Spirit Himself intercedes for us with groanings too deep for words; and He who searches the hearts knows what the mind of the Spirit is, because He intercedes for the saints according to the will of God.  And we know that God causes all things to work together for good to those who love God, to those who are called according to His purpose.
Good to know, yes?