by coie - June 27th, 2007.
Filed under: Uncategorized.
Firstly, the happiest of 7th birthdays to Dippy, the Squeakie (and strangely flexible).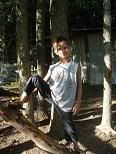 Well, I took KAIT THE GREAT to the airport this morning. And holy cow, I tell you what. See if I ever let her come again. She made me get up at 4:30 AM to get her there in time! But then I got home and slept for 2 hours. So I forgive her. Kind of.
While she was here……….

…We made skirts…
…We did historical dancing at my friend Veronica's birthday party…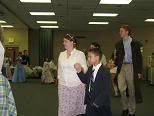 Kait and Bobo
Me and Bobo
A group of different people
…We milked goats…
"Nice goat….be a good girl, Spot…."

"Am I doing it?!"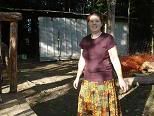 She was proud of the tablespoon she got the first day.
"Move aside, Kait. THIS is how you milk a goat!"
…We went to Wonderworks with friends Tyler and Tanner Burggraf…
Dippy rock-climbing
Kait experimenting with ropes and pulleys
Kait on the moon
Ryann on the moon
Now this next picture needs some explanation. Imagine a toilet paper roll (cylinder) on its side with a bridge going through it. Now imagine that the walls on this toilet paper roll are black with an assortment of different colored polka dots. Now imagine yourself walking down this bridge in darkness (but with brightly colored polka dots) and the walls rolling counter clockwise. If you were to close your eyes, you could make it across the bridge fine because it holds still completely, but if not, you lean to the right and can hardly make it through…..Example:
Momsie and James (James didn't think to close his eyes)
…I shot a squirrel…
…We (er, Kait) took pics of my siblings…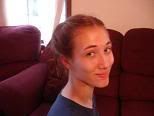 Ryann
Emmiko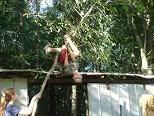 Bobo! (no series of pictures of my siblings is complete without a tree-hanging one)
[picture of Dippy at top]
James
…And I popped up in pictures I wasn't supposed to be in…
Anyways, thanks, Kaitlin for spending the week with us! Remember to come in October! Don't tell your parents how we woke you up in the car! Hint: SLAM, *gasp*, *laugh*