by coie - June 4th, 2007.
Filed under: Uncategorized.
There's not many things more frustrating/gross than laying utterly exhausted in your bed and then suddenly finding out that your 3 year old brother wet himself in it a few days back while you were gone. Yuck.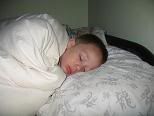 It's been another busy weekend in Ig Town (thanks KAIT for giving me that idea). Dad and us girls left for Father Daughter camp on Thursday evening and got back Saturday night. We set up our camp site and it started to drizzle as we finished. The Gonzalez's also got there that night (a day early for the actual camp).
On Friday dad and I helped with the Burggraf's cabin up there. I got the most exciting jobs. Get this– First I picked up trash, then I stared at a wall and waited for a cord to appear. Then I sat under the house and held a cord for 5 minutes. Then I got to stare at another wall for a while and waited for a cord to appear. Then I got kicked out. But that's ok because the Gonzalez girls were there and I got to chat with them. 🙂
Friday night most of the families showed up and got set up. We had the Gonzalez's, Roys, Johnstons and Carr's by us, which was nice. On Friday night it poured down hard and a lot of people came to our campsite since we had the biggest fire and the best setup (with lots of shelter!). That is all thanks to my dad who is a genius. He even set up a shower for us. hehe.
I got to bed about 11 that night and as I lay there I noticed my pants getting wet. My sleeping bag was SOAKED because rainwater had just happened to make it into one spot in our tent– my corner. So dad and I were up for another 15-30 minutes drying out my sleeping bag and pajamas by the fire.
On Saturday we did had a corntoss tournament (Dad and Emmi were one of the top 5!), went through caves and shot guns. I went through Cave 1 which is the one that terrified dad and I last year. As I approached it and waited my turn to squeeze through, my heart rate went through the roof. But there were about 8 younger girls going in for the first time so I tried to reassure them that everything was fine. I finally went through the tight spot and relaxed. Then I called for Sarah Roy who really wanted to go in, but who was really afraid to. I got her to inch towards the tight spot, and stopped her from turning around about 3 times before she reached my hand. I held her hand and told her to look just past me where it opened up. She did, but wasn't quite convinced. After a few minutes I got her to come through and she stuck with me throughout the "tour". She was happy to get out at the end. 🙂
After I got out of the cave, I started a water fight with Mr. Roy. I was pretty sure he was going to start one so I decided to get him first. Emmiko ended it when she dumped a bucket of water on him. It was great fun.
The rest of the day was pretty laid back and we packed up our campsite. We were one of the last ones to leave because we had to close it up. Mr. Burggraf had to leave since he had a plane to catch early the next day. The whole thing was really fun and I am glad that we were able to be apart of it.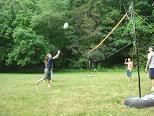 Ryann playing Volleyball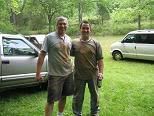 Dad and Mr. Gonzalez after going through caves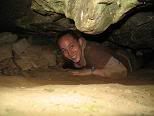 Ryann near the end of the cave (yes, the entrance is even tighter!)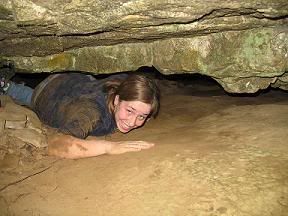 Me near the end of the cave (we don't need a bigger version here since I don't take very nice pictures after three days of camping)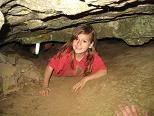 Sarah coming out (isn't she a pretty little thing?)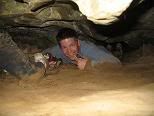 Mr. Carr coming out (he filmed the whole thing!)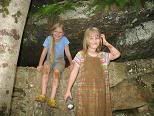 Emery Carr (in blue shirt) sits in front of the cave exit.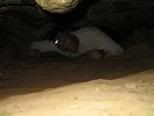 Mr. Roy is acting like he is stuck.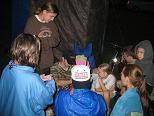 A group finding shelter from the rain and looking at bones that were found.
Ryann shooting the Roy's deer rifle (that was one cool gun)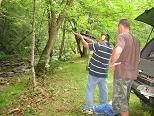 Dad shooting
…and would you believe I was the only one that could hit one of the soda cans on the hill?!…