by coie - March 24th, 2007.
Filed under: Uncategorized.
Bobo turned ten yesterday and had his friend Joshua Johnston over. What a sweet boy! But I tell ya, boys are LOUD! We basically kicked them outside until bedtime, which they thought was awesome. 🙂
Today I finished a skirt that I was making for Emmiko. It's pretty bright and summery.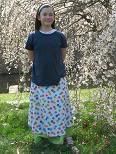 I love the weather! It's warm, the flowers are blooming, and everything smells good.
Our goats have been giving us a quart of milk a day, which is usually gone before breakfast is finished. And speaking of breakfast, everyone one has been enjoying "healthy" cinnamon rolls instead of oatmeal these last three days. We make them with freshly ground wheat, sucanat, and cinnamon (among other things, of course), and boy are they good! Especially with fresh milk.
I have a sore throat today, but two bowls of Japanese clear soup has helped some. We love this recipe and when everyone had the pukies, they ate this without throwing it up. I'll post the recipe because it is so easy and a good soup for sick people, even though I loathe it when people post recipes on their blogs (I don't know why….).
And this is in Homeschool Family Size portions, which we ALL know is bigger than the so called "Restaurant Size" portions. So, if you need to make it smaller, you will have to use your division skills.
Bring 18 cups of chicken broth (or 18 cups water + 18 chicken buillon cubes) to a simmer. Add 2 cups cooking sherry (yes, the alcohol will cook out) and 1/2 cup + 1 Tbsp. soy sauce and let simmer 2-3 minutes. Serve and garnish with VERY THINLY SLICED mushrooms (I get pre-sliced and then slice them 4-5 more times–we're talking paper thin), lemon and green onions. And Viola! Great bowl of soup.
Alright, Dippy just picked about 208 dandelions, so I guess we better go take care of those. I'm going to wash them and dehydrate them and do who knows what with them. Try a tea or something. He is dying to make a salad with them. 🙂