by coie - March 12th, 2007.
Filed under: Uncategorized.
These past few days have been great. We have been blessed over and over again with wonderful things.
On Friday after mom and dad worked in the garden, I got dad's laptop to download his emails for him. As he went through them and we discussed the grocery list for me to get I spotted an email from his "goat group" that said "Free Great Pyr L—- County, KY". I pointed it out to him and he had me call the lady. We have wanted a Great Pyrenees for about 2 years now. But not just any pyr….we wanted him to be about two years old, good with animals, and good with people. However, we never could afford one. When I called the lady (Mrs. Baldridge) she informed me that "Bandit" had been abandoned after the owners were arrested for drug use. When the Baldridges got him about 6 weeks ago he was so starved that the vet wouldn't give him shots because there was nothing there, and he didn't pass anything for 2 days. She told me that he was about 2 years old, had a great personality and never had any problems with their many animals. They were only getting rid of him because their other Pyr kept whoopin' him.
So we drove 4 hours up to Kentucky to get a dog that we had only heard about through a complete stranger. It was a lovely drive, and we read Ishmael aloud on the way up. When we arrived at the Baldridges it was about 6 o'clock, but we stayed till 7:30 looking at their animals and talking. They had one of the countries smallest horses (It's back came to my knees) and one of the countries largest mules (it's back went up 6 FEET!!!! I was astonished at seeing such a large animal!). At 7:30 we loaded Bandit into our van and started the drive home. He decided that he liked the back seat better and drooled all over my siblings heads the entire way home.
This dog is the most lovable, happiest, gentlest dog I've ever seen. We didn't like the name Bandit, but wanted his new name to sound similar, so he is now referred to as "Banjo". Just think…When we started thinking about getting a Pyr two years ago…and wanted one that was two years old….that's when God created Banjo…..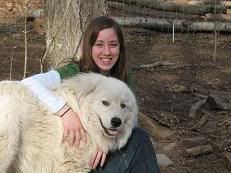 Me and the polar bear dog, Banjo
On Saturday I got to unload half a trailer's load of manure. Maybe I'm just weird, but I think shoveling manure compost stuff is fun and relaxing. I also raked out the goat pen which is fun….it is almost like doing those little sand meditative gardens where you place rocks hither and thither and make designs.
Then we went to the Burggraf's and then we picked up more manure for me to shovel. Yippee! When we got home dad and I finished building the milkstand for the goats. It is ginormous, and it's so cute. My dad cut down a cedar tree and made some lovely but albeit uneven boards for the floor of the stand. We also tacked on half of a cedar round on the back of it for decoration. It's so rustic looking and I love it.
Here are pictures of the milkstand and Bobo milking his goat: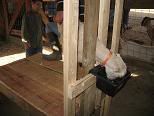 Daisy is very laid back and is A-OK with anything, especially if food is in her presence.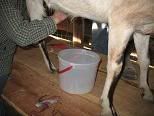 Yes, that is milk (just clarifying for you city folks).
On Sunday we visited a church that we went to when we first moved out here. It took us about an hour and 15 minutes to get there, but the sermon was wonderful. It was about worshiping God and the importance of worshiping with fellow believers. A great line that the pastor stated was, "God's word shows us what true worship is. What place do we have tailoring our worship to the whims and entertainment of unbelievers?" He went on to say that yes, it is wonderful when unbelievers come to church; it is then that they get a glimpse of our God, and of the fellowship of believers WORSHIPING together. An unbeliever CANNOT worship our God, and it is a waste to try and entertain these unbelievers. It is not saving anybody! We stayed afterwards and had a great time talking to old friends and meeting new ones.
When we got home we put up some chicken wire to keep the chickens out of the feeding hay, I shoveled more manure (Yippee!), and we raised a lopsided tree about 10 feet. We also trimmed goat hooves and milked our goats. Belle had diahrrea again so I had to give her Kaopectate. AND UGH! She is a little whatever. I couldn't get her mouth open and got some in her nose and then she SNEEZED IT OUT ALL OVER ME! I fairly squeeled, yelled, and whined all at the same time. It was nasty.
And today, I cut my dad's and Bobo's hair, did some TOS work and then went to the thrift store with mom and Peachy-Keen.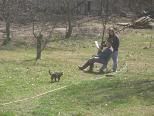 And last week I finished a baby quilt for AUNT SPIFFY'S new baby. The middle square has his name stitched in it, but I blocked it out for safety reasons. 🙂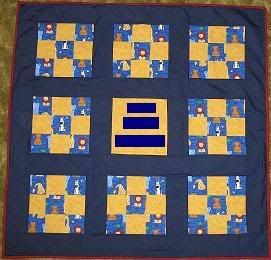 I am so thankful for our "farm", my family, the beautiful weather that has allowed us to work so much outside, the time that I have had to sew and quilt, and the fellowship of believers.